In celebration of Peace Corps Philippines 60th Anniversary, we asked for your Peace Corps stories and reflections. Please enjoy this selection of memories, sent in by you – our fellow RPCVs and donors.
Never having to start sentences with "I should have"
By: Letitia Morse Lladoc, 1964-66
THEN: While attending Marywood University in Scranton, Pennsylvania, I heard President John F. Kennedy say, "Ask not what your country can do for you, ask what you can do for your country". Inspired by these words, I eagerly applied to the United States Peace Corps. I was ultimately accepted and assigned to teach English (TESOL) in the Philippines from 1964 to 1966.
My two-year commitment in the Peace Corps stretched to 15 years of living and working in the Philippines. I met and married, my late husband Jesse Lladoc, the Deputy Governor of the Province of Leyte, who later became the Vice Mayor and Mayor of Ormoc City, making me for a number years "the first lady of Ormoc City" (not part of the Peace Corps mission).
I continued my teaching career at St. Peter's College teaching Psychology, Sociology and TESOL methods to both students and faculty. After completing a master's degree in counseling at the University of the Philippines, I opened a Bookstore and a Family Counseling Center.
Due to the growing political unrest in the Philippines, Jesse and I, with our two children, were forced to leave the Philippines in 1979. We settled in my hometown of Stroudsburg, Pennsylvania.
I continued my teaching career in the Social Studies Department at Pocono Mountain High School. I organized student groups to address issues arising from the new diversity in our school district. Throughout the years I developed English as a Second Language Programs in our school district and neighboring districts. I also organized ESL/ Multicultural/ Diversity In-service programs for administrators, teachers, counselors, and staff in Pocono Mountain and surrounding school districts.
I was employed as an Adjunct Instructor of Multicultural Graduate Education with Regional Training Center/Gratz College and The College of New Jersey from 1994-2011. I taught more than 1,500 teachers in Pennsylvania and New Jersey.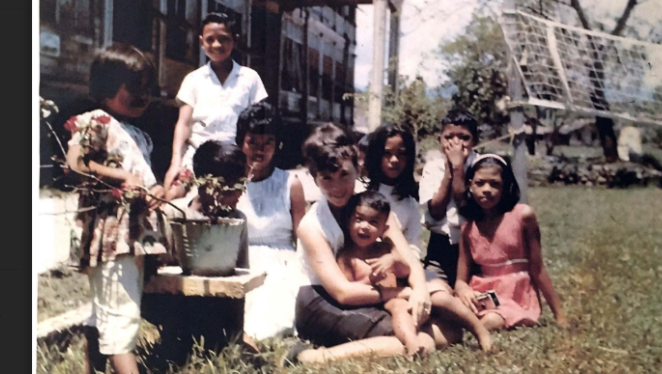 NOW: I am presently an Adjunct Professor at Northampton Community College, teaching English as a Second Language. I travel only seven miles from my home to teach what I taught in the Peace Corps more than 5O years ago!!
How different my life might have been, if I had never taken the opportunity to join the Peace Corps. My decision changed me forever and gave me a wonderful family and a world of experiences. I have never had to start my sentences with "I should have … "
You Can Go Home Again
By: Gerald Mullins, 1961-63
Through the years, many Returned Peace Corps Volunteers have gone back to their overseas sites. Perhaps not too many, however, have done so over a longer period of time than I, when I returned to the Philippines in January 2016. From 1961 to 1963 I was assigned as a teachers' aide at San Fernando Elementary School in rural Albay province in the Philippines. The school and community rest on the slope of the picturesque and nearly perfect cone-shaped Mayon volcano. The January 2016 visit was my first time back to "my school" since I left in June 1963, a period of close to fifty-three years.
To my surprise — and delight — I was warmly welcomed and treated as a returning son as I walked onto the school grounds in San Fernando. The teachers and villagers had been alerted in advance of my coming so it was not a complete surprise. What was a surprise, however, was the large turnout, including more than a dozen of my former students, most who are now in their sixties.
I joined the current students and staff in the pledge to the flag and singing the Philippine national anthem, "Lupang Hinirang". This was followed by a huge spread of breakfast delicacies including papaya, pineapple, fried bananas, and rice cakes, all prepared by the former students. At one point one of the men in the group spoke up and reminded me that I had given him a copy of the Boy Scout Handbook back in 1962. He stated, with considerable regret, that the book was destroyed when a typhoon struck the area a few years later. (A follow-up task for me when I returned to Wisconsin was to send him a new copy of the handbook.) A short while later, while visiting over breakfast, two of the women in the group of former students, who were grade three students back in 1962, started singing several songs I taught them during our time together. I was stunned when, from behind me, they started in with several verses of "Row, Row, Row Your Boat" and "The Itsy Bitsy Spider". They still remembered that small bit of fun we shared together so many years ago.

While one may wonder what tangible contributions are made through their Peace Corps service — this was particularly true for early PCVs whose job descriptions were often not well defined — I would say, nevertheless, there is no mistaking the success of the "good will" side of our efforts in the early days.
I continue to be pleased to have served in the Peace Corps and to have answered the call of President Kennedy to what was then a new, but very exciting-sounding, program. The return described here further reinforces the good feelings I have about the Peace Corps.
Looking back, little did those of us who joined in 1961 — most fresh out of college at the time — ever dream the Peace Corps would endure as it has and that many thousands of Volunteers would follow.
Finally, as a last word, to those RPCVs who have not yet journeyed back to their sites of assignment, be sure to do so. You will find that you can go "home" again.
From San Jose, CA to San Jose, Albay, Philippines
By: Martha "Marty" Hull, 1961-63
During my two years in the Philippines, I had three "home base" areas, all south of Manila: Masbate; Marawi, Lanao del Sur; and Libon/San Jose, Albay. Our stated job was to be a "Teacher's Aide" in English and science, but we were free to expand our roles as needed.
Libon is a rice growing central valley area. There was a small mountain range between Libon and the sea. Although I lived in Libon, the school where I was assigned, San Jose, was at the very top of the mountain range. San Jose was a small self-sufficient barrio growing sugar cane, camotes, and coconuts. A bus made three trips a day over to the sea where it picked up passengers and fish and then came back to Libon. I caught the first trip over at 5:30 am and the last one back at 4 pm.
My school had two buildings that were government issue pre-fabs. There were three classrooms and a small administrators' office in these buildings. The other classes met in an old structure made out of bamboo, palm leaves, grass, and some corrugated iron strips left from WWII. These classrooms had dirt floors. The school had no running water, electricity, or toilets. Classes were held from 8:30 to 12, then children went home for lunch and a rest. The afternoon classes from 2 to 4 were not usually classroom activity, but work projects (cleaning, gardening). Occasionally the children got free play which was greatly enjoyed!!
Shortly after I arrived, the parents had a meeting and decided to build a room for me. They wanted me to start a library. I talked them into building another classroom as well as my room, which was to be half the size of a classroom. It took the men a little over a week to build the rooms. The sixth-grade boys and I made all the furniture for my room (a table, chairs, bookcases). The room was used for small group instruction and teacher work projects, as well as a small library with the few books I was able to get.
Towards the end of my stay there, the 6th grade teacher/principal didn't show up for class for several weeks. I wound up teaching 6th grade with no materials or lesson plans. One of the boys brought his carabao to school and we plowed a field for a new garden. Unfortunately, for these students, 6th grade was the end of their schooling. There was no high school they could attend without moving down to the central valley. 
One of my favorite things at San Jose was our United Nations festival, which I started. The children were divided into groups representing different countries. I had to have several meetings with parents before any of them would allow their child to represent Japan, a nation still hated because of WWII. I worked with all groups except the one representing the US. The 2nd graders wanted to surprise me… And they did, donning costumes appearing as Native Americans.
I never thought of anything I did as a "project" and felt like a failure most of the time…. Now that I think of it, I do think I was doing what the Peace Corps set out to do, not making a big bang, but getting people to work together on common goals.
RPCV Reflections on our Lives
By: Barbara Stoughton Hiller, 1963-65
As a RPCV, I am often asked what we, as volunteers, accomplished in our assignments. As I reflect on my teaching time at Morong High School (Rizal) and Philippine Normal College (Manila), the more important question is how did the experience impact my professional and personal life?
From day one of training, we learned the importance of listening and continual self-learning. Every day involved teaching and building relationships through continual learning (Tagalog, cultures-theirs and ours-and history). Embedded in all was the true meaning of humility and sensitivity.
Phil and I met in training, worked together as volunteers and married at the end of our service in 1965. We often talked about the impact of the Peace Corps on us as educators. We had learned that we were not simply mathematics and science teachers, but that through these courses we could have a deep impact supporting and challenging our students as they sought to define their futures.
The Peace Corps enriched our lives as a family, as educators and community members.
Still Remembering and Wandering
By: Michael Beaudoin, 1963-64
Are there especially memorable moments from my time in The Philippines? It is a pastiche of so many events and experiences, some that have long faded from memory, and others as vivid as the day they happened. An early one concerns my last meal before leaving home and my first meal with temporary hosts on the island of Mindanao. Assuming it would be a while before I'd be eating lobster again, my family feasted on this classic Maine meal. My Filipino hosts' special treat? Lobster!
My arrival to my assigned barrio was not an especially auspicious start. A PC staffer stopped the jeep at a dusty crossroads, then instructed me to walk a mile into the village and ask where Mr. Saldo, the school principal, lived and introduce myself as his Peace Corps Volunteer. His casa was my casa until I was able to arrange for construction of a thatched roof cottage on the school grounds (cost: $400.)
Perhaps my most vivid memory happened on November 22, 1963: My part-time houseboy came running into my cottage shouting: "Sir, your president is dead!" I still have the telegram Director Sargent Shriver sent every PCV around the world the next day which read: "Now, more than ever, we must all carry on the work that President Kennedy asked us to do."
When asked what I might consider be the most dramatic difference between my life in a remote Asian village 7000 miles from home in the early 1960s, and what it would be like today, I'd probably suggest it would be the impact of the digital age on daily life. I can recall only one phone chat with my family in two years, with communication limited to a once-a-month exchange of news via tissue-like air-mail envelopes folded in half serving as stationary with hand written notes on the inside. Today's PCVs likely cannot imagine missing digital contact with loved ones back home most every day.
One question that remains with many RPCVs long after they have returned is whether what they may have accomplished might have had much impact on the people and places they encountered. For me, a partial answer came a few years later when I worked at PC headquarters in Washington, DC. In the library there, I spotted a magazine published in The Philippines that featured a story about an athlete who was a member of the country's 1968 Olympic track team. Though she did not win any medals, she did set a new national record in her event, one that had existed for 26 years! No mention of me, of course, but I had the special feeling that, as her high school coach, I might have contributed in some modest way to her athletic achievements.
Among the myriad ways in which my PCV experience had a transformative impact on my life, is my life-long quest for travel, having traveled in more than 50 countries.
T.S. Eliot was correct; we do indeed know a place, and perhaps ourselves, for the first time upon returning, and hopefully we are better for it. Our good works in those far-away places surely benefited us at least as much as those we engaged with for two or more memorable years.
60th Anniversary RPCV Reflections