Please join us in managing the Foundation and providing educational opportunities for the leaders of tomorrow in the Philippines!
There are a number of ways to support the foundation and get involved, regardless of what batch you served in or where you reside.  If you have a little extra time to contribute, the Foundation can always use a few extra hands in the following areas: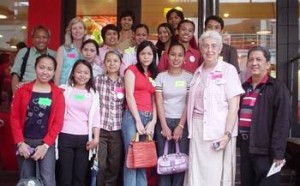 Financial Management/Administration
Database Management
Newsletter, Balitaan (published spring & fall each year)
Constant Contact (periodic email newsletter)
Website Management
Social Media (Facebook, Twitter, etc.)
Student Affairs (managing student files, essays, etc.)
Philippines RPCV Networking
At the very least volunteers can:
Send the names and addresses of the volunteers you keep in contact with so we can add them to our mailing list
Promote the scholarship to your contacts in the Philippines
Host a small gathering of Philippine RPCVs living in your area (we can provide the list)
Make a tax deductible contribution to the general scholarship fund to support deserving, financially needy Filipino students
Get together with your RPCV group or friends and colleagues to support a PCAFPD scholar through our special scholarship program
Support an individual scholar for a scholar from a particular province/region for a contribution of $1,200 per year (sponsors receive copies of student essays and letters through the Foundation)
Write a letter of recommendation for a scholarship applicant (see the scholarship application section for more information)
Send a letter to a community leader/high school principal you know in the Philippines telling them about the Foundation so they can recommend applicants (or tell us the names and addresses and we will send the letter)
Attend a Foundation Board meeting in Washington, D.C. – RPCVs and supporters are always welcome!  Contact us for our next meeting date
Or email us and tell us how you'd like to get involved – thank you for your support!