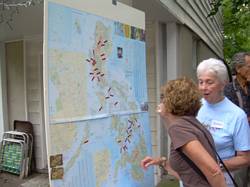 We welcome hearing from friends and supporters!
Mailing Address:
PCAFPD
P.O. BOX 100114
ARLINGTON, VA 22210
Email Contact List:
Receive PCAFPD announcements via email.
We will send occasional timely announcements of upcoming events, activities, or news.
MAILING LIST For Hardcopy Newsletter:
Please send an email containing your mailing address to the Board Email address below to receive our twice yearly newsletter by U.S. Postal Service.
Board Email Address:
Please feel free to email us directly with questions, comments, or ideas – or to be added to the mailing list for the newsletter.
In an effort to cut down on the spam in our inbox we are writing the email address in words, but please use the usual format without spaces for emailing us. Please put "Philippines, Peace Corps or PCAFPD" in the subject line so we will not miss your email.
EMAIL ADDRESS:  pcafpd at gmail dott com
Email for Mr. De Jesus, VP/Philippines: rpdeejay at yahoo dott com (current scholars, please use this address)