With PCAFPD support, Carla Dela Cruz graduated from college in 2011. Read her story to see how your contributions made a difference in her life. You deserve to be as proud of Carla as we are!
 The Early Years
Against all odds, Carla Dela Cruz has built a good life. Significantly handicapped in her lower body from birth, Carla has never been able to walk – in a country with few resources or accommodations for the disabled. Carla grew up in an exceedingly poor family of 11 children in a small rural town on the remote island province of Catanduanes. Her parents had only occasional employment as farm and other rural labor. Prospects for her future were bleak.
Nonetheless, Carla was determined to flourish.
As a small child, she made the daily journey alone along the village trail to the elementary school. As she describes, "I literally crawled for my education. I used a backpack for my stuff since I can't use a sling bag. When available, I put slippers on my hands and shoes on my feet." To this day, she has calluses and scars on her palms and feet from the ordeal. Undeterred, Carla studied with all her might and was consistently an honors student.
Carla was unable to continue on to the local high school two-and-a-half kilometers from her home because, as she explains, "I had no wheelchair to use and my siblings were not willing to bring me back and forth to school. After I graduated from elementary, my parents had no plans for me."
Opportunity Calls
Fortunately for Carla, her older brother offered to bring her to Quezon City to continue her studies. At the age of 13, Carla moved to Metro Manila to live in a dormitory and attend high school at the National Orthopedic Hospital – School for Crippled Children. "At my young age it was difficult for me to be away from my family, to live in a strange place where I didn't know anybody."
Even in an institution for "crippled children," Carla encountered difficulties and limitations of accessibility in her crowded dorm and school compound. "I had to do everything for myself such as washing clothes, ironing uniforms, budgeting money and making decisions." While the school might seem grim and depressing to some, for Carla this was a turning point in her life. She began to blossom in high school and was consistently on the Dean's List. It was also here that she received her first wheelchair, a donation from the founder of the school dormitory.
Carla dared to dream bigger dreams for herself and her future. In grade 10, she applied for the highly competitive Kennedy-Lugar Youth Exchange and Study (YES) program sponsored by the U.S. Department of State. Carla was awarded a full scholarship to be an exchange student and "youth ambassador" for a year in the U.S. While attending high school and living with a host family in Maryland, Carla learned about the Americans with Disabilities Act and first connected to others in the disability rights community. That's also when she met Carol Radomski, now PCAFPD president, who suggested that Carla apply for a PCAFPD scholarship to pursue her dream of a college education. After returning to the Philippines to finish high school, Carla mailed in her scholarship application. And when she heard that she had been selected to be a PCAFPD scholar, she was elated. "It felt like winning the lottery!"
The College Years – Continued Challenges, the Emergence of a Leader
Carla had a daily, four kilometer wheelchair journey to her college from the dorm. Public transit in the Philippines is generally inaccessible to people in wheelchairs. "Every day, as I rolled my wheelchair I knew I was in a dangerous situation, especially in crossing the road crowded with cars, or rolling my wheelchair against the direction of the traffic." Even simple daily activities, such as holding an umbrella, presented a challenge for Carla as she navigated the city streets in her manual wheelchair during the long, heavy rainy season.
Carla's dorm was located near Commonwealth Elementary School, and she got to know some of the special education "SPED" children making their daily trips through the neighborhood to that school. This connection reinforced Carla's desire to teach children who had acute challenges just like her. Indeed, she decided she wanted to teach one day at that very school.
During this time, Carla began taking on leadership roles for advocacy. She volunteered with the Leonard Cheshire Disability Young Voices program, and in 2008 she was selected to travel to Ethiopia as a
Philippines representative to the U.N. Young Peoples Convention on the Rights of Persons with Disabilities. Through this experience, Carla discovered her own gifts as a spokesperson for those with disabilities, gifts which she continues to use in the Philippines.
Carla's focus, hard work, and positive attitude pulled her through to her goals. She graduated with honors from Trinity University of Asia in March 2011 with a B.S. in Elementary Education and a major in Special Education. Six months later, she passed the Licensure Examination for Teachers. Even then, Carla was discounted by some of her colleagues. They were incredulous that she had passed the licensure exam on her first try since only 20 percent accomplish that feat. "Discrimination and low expectations from others are always a part of my life."
A Career and The Dreams Live on!
When Carla received her first teaching assignment, she was delighted to learn that she would be working with SPED students at Commonwealth Elementary School. The job, which she still holds, carries its own challenges. Carla has a classroom of 20 pupils, 7 to 14 years of age, with disabilities ranging from "intellectual disability" (ID), Down syndrome, and cerebral palsy, to autism. Her role is to prepare them for success in their various grade level classes. She feels a keen empathy for her students, knowing the wrenching difficulties they have to face in everyday life.
Today, just as Carla dreamed, she is able to help her family have a better life as well. "People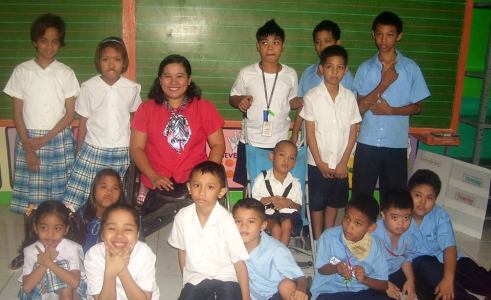 helped me get an education so now I am able to help two other siblings go to college. I promised PCAFPD that I would, in turn, lift up my family once I finished my studies."
With the help of the Foundation, Carla returned to school in 2014 to pursue a master's degree in special education.  Still carrying a full teaching load during the week, Carla spends her evenings and weekends studying for her graduate degree, which she hopes will better prepare her to be a leader in her chosen field of special education.
And Carla has more dreams for her unfolding life. As always, her aspirations are close to home – to continue to help people with disabilities in her community. When asked how her life would have been different without the scholarship she simply responded, "I couldn't imagine my life without PCAFPD's support."