It's a proud time of the year for PCAFPD – our scholars are graduating. Check out Vanessa's final essay of reflection. We wish you all the best on the licensure exam and your future endeavors.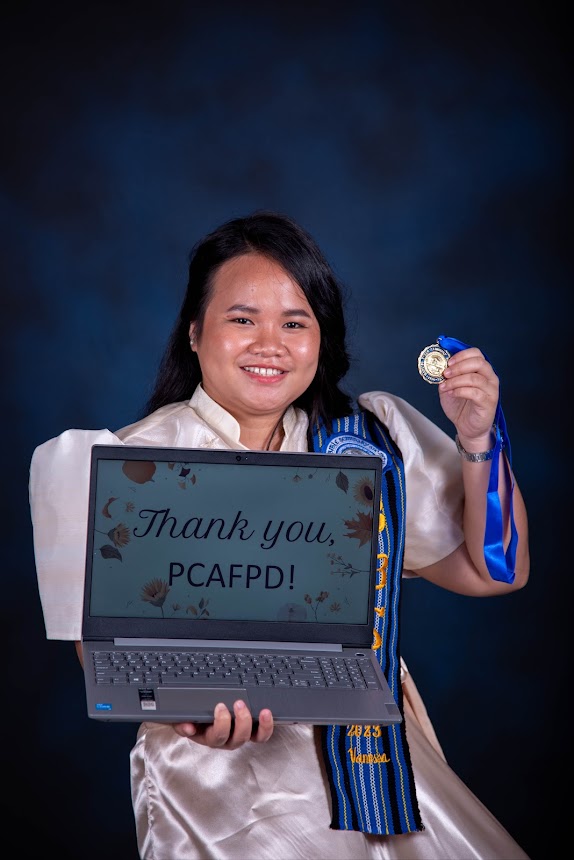 — By Vanessa Biong, Bachelor of Arts in Theology
"It feels like yesterday as I reminisce about my freshman year at my school in Taytay, Rizal. If I could picture myself during that day, I am a lady who came from a province who can't even communicate well and can't commute alone. I travel away from home even though I do not have enough financial support from my family to sustain my educational needs. But then the Lord is good and truly amazing in his ways, and now I am humbly sharing with you in this letter that I successfully finished my studies at Baptist Bible Seminary and Institute. I graduated on June 11, 2023, and I received two merit awards entitled "Dr. Richard Durham Memorial Award (Excellence in Christian Education)" and "Best Practice Teacher of the Year". I also received a Latin honour, Cum Laude, in our batch. Now, all I can say is that these things are only because of the Lord's grace and mercy towards me. Honestly, I could not claim these were my own. I only believe that it is only through Him that I can successfully finish my studies in college.
I am deeply grateful to the Lord, as he provided everything for me during my school days. I am thankful to those individuals who secretly give me financial support and pray for me as I seriously take my studies. I am also giving thanks to the foundation, especially to those who are behind it. Truly, there are no words that could express how grateful I am for your lives. Through your efforts in reaching us scholars, I am also determining that someday I will also be a financial supporter of students who aspire to be successful in life and be a great help in our country. I will also be like you, who gives assistance to students, whether it is small or big acts of service and love. And the best example of that assistance is when the foundation granted each of us scholars a laptop so we could easily comply with our requirements. With this act, I am planning that someday I could be one of you who helps students in their journey through schooling.
Now, I am planning to take a month off while I'm preparing for the next step of my journey as an educator. I plan to take the Licensure Examination for Teachers next year. And while I am reviewing for that, I am volunteering myself in our church as staff. I will volunteer myself in any ministry that I can for our church. Also, I plan to be the tutor for my nephews in the meantime. In this way, I can make sure that I am still productive even if I am unemployed for now. And if I successfully pass and get a license, I will apply to teach in public schools. While teaching, I will try to study again to pursue my dream job, which is becoming part of the military forces here in our country.
But then, in all those things, I must learn to fully surrender everything to the Lord because he is the one who will take care of it. Even if he plans anything and everything, he is still the one who controls it. The decision is still in his hands. As I end, thank you, PCAFPD family, for allowing me to become one of your scholars. I know I cannot repay every effort of yours, but I will promise that someday I will also do the same thing to another student that I may face. I will contribute to a change here in the Philippines, especially in education. Maraming Salamat po, PCAFPD, and Ituloy Team!
Back to News Stories | Follow us on Facebook
Scholar Graduation Highlight – Vanessa Biong