A Tale of Hard Work, Perseverance and a Helping Hand from PCAFPD
Jenifer "Jen" Mercado Halili grew up San Pasqual, Batangas. Jen's family was exceedingly poor. Her father, a welder, became ill and was unable to work from the time Jen was five years old. To help provide for her family, Jen began selling ice candy from door to door in her barangay.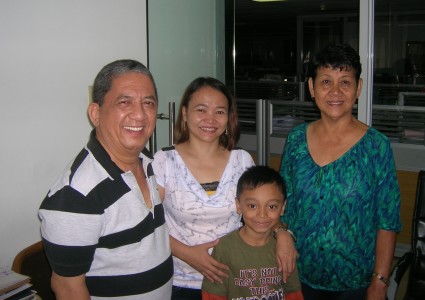 By the time she started elementary school, helping to support her family was a way of life.
During her elementary school years, Jen's mother earned a meager income by selling homemade snacks in her daughter's school yard. They both woke up early to buy the needed fresh fruit ingredients at the market and then, during recess, Jen assisted her mom while the other kids played. After classes, Jen sold the remaining items around the neighborhood. A few years later, Jen switched to doing piecework sewing at home, as well as baking and selling pan-de-sal – leaving little time for homework or play.
Through these experiences, Jen grew more and more determined to study hard so that she could eventually secure a better livelihood and help her family escape from biting poverty.
By the time she was in high school, however, it became increasingly difficult for Jen to continue her studies. While there was no tuition at the public high school, it was a struggle to find money for fees, uniforms, and school projects. And the hours she spent in school were hours that she was not earning income to help her family. Jen learned of the PCAFPD scholarship program from a friend of a Peace Corps Volunteer who knew how desperately Jen wanted to finish her studies. Jen filled out the application and, much to her delight, she was selected as a PCAFPD scholar – which gave her the support she needed to complete her final two years of high school.
After graduating from high school with top honors, Jen applied for a college scholarship from the Foundation. Jen was ecstatic when she received the award letter. "I was so very happy because my prayers to have a college education were answered. I thanked God for giving me this great opportunity," she recounted.
Jen was drawn to studying Civil Engineering with a focus on environmental issues because she believed that protecting the environment is critical to helping the poor. "We have no money to go to a hospital and see a doctor, and the medicines are too expensive to buy. When we have a clean environment, we will also have good health and a good source of food to eat."
Civil Engineering also appealed to Jen as a major because it seemed to her that the books, reading and study time required for that degree would still allow her to work on the side in support of her family. By now, she had added on to her other income generating activities doing laundry work in the barangay, washing cars and jeeps, cutting hair and doing manicures and pedicures. Between school work and earning income Jen was SO busy. Yet, she consistently ranked in the highest tier of her class.
Jen graduated from Batangas State University with a BS in Civil Engineering. Roland de Jesus, PCAFPD Vice President for Philippine Operations, helped Jen find her first job working with the Manila-based Philippine Chamber of Mines, an umbrella group for the mining industry. Jen's job was to advise the mining industry members on minimizing environmental disruption in their operations, as well as to provide pertinent reports. However, because Jen had only a bachelor's degree, she was not certified to sign off on the regulatory compliance of companies. A master's degree would allow that, and would also significantly increase her salary and employment options. With the backing of PCAFPD, Jen started back to graduate school, receiving an MS in Environmental Management from Philippine Women's University in 2011.
With the necessary credentials in hand, Jen was able to secure a higher paying job with more responsibility. She was also able to relocate back to her home province of Batangas, closer to her family that she helps to support.
Jen is now an environmental manager and a government accredited Pollution Control Officer at an international construction firm. With her enhanced authority, Jen can sign off on official reports and documents, certifying that her company is meeting environmental regulatory requirements. Her efforts benefit the community by helping assure that the company will not cause pollution through its operations, but rather will protect and enhance the environment through conservation projects.
In her scant free t
ime, Jen gives back to her community through her position as Second Vice President on the Board of Trustees of Batangas Coastal Resources Management Foundation, Inc, an NGO that promotes tree planting and coastal cleanup to the benefit of local fishermen and the broader community. She also assists people in her local area find jobs in the construction industry and other fields.
Jen works hard at her job, including a half day on Saturdays, but life is much better now. In a gratifying turn, Jen, who is now married and has one child, can afford to hire others to help her with household chores, such as cleaning and doing laundry. She is now able to support continued care for her father's ill health, has sponsored two of her siblings in their own college pursuits, and provides care for her third sibling with Down syndrome.
For her own son, Lars, Jen carries a smile of deep satisfaction. "My son will not have a difficult childhood like I had in so many ways. He does not have to work at an early age, and he can go on school field trips" because the family can afford the required fees for participation.
More than two decades after receiving her first scholarship from PCAFPD, Jen remains immensely grateful to the Foundation. Jen was a very poor girl from the barrio and would likely have stayed that way. For the interview to help us tell Jen's story, she commuted hours into Manila in her rare free time. "I would do anything for PCAFPD."